Zhuzhou Jinxin cemented carbide, CNC inserts, CNC cutting
tool, mining alloy, carbide rod, carbide mould, non-standard
carbide design, high quality carbide products create development,
create our mutual future.
All Rights Reserved ;Zhuzhou Jinxin Cemented carbide Co., Ltd. 湘ICP备17007259号
Jinxin Cemented Carbide Partner
Tungsten carbide button/teeth/bits
We produced carbide alloy series --- ball mining gear tapered wedge tooth tooth tooth road-cut coal teeth word drill bit cross drill bits are widely used in various mining drill solder, our mining alloy excellent toughness and wear resistance, and a variety of materials to choose from, for different hardness of rock excavation.
A, ultra-coarse grain carbide material, 100% alloy through pressure sintering, the drill bit hardness and toughness while increasing by 30%.
B, unique design, boring faster 20%, life expectancy increased by 30%.
C, imports of selected high-grade steel to make pants body, to ensure consistent overall performance drill, pants body is not broken.
D, industry-leading after-sales support, 100 percent of defective products returned.
Spherical carbide teeth Product details:
1. Mainly used for medium and small-scale carbide ball tooth for inlay system cone drill and impact drill, drilling soft and medium-hard rock, but also can be used for other drilling alloy sheet.
2. With excellent wear resistance and toughness, compared with similar products with higher speed boring.
3. Teeth long ball drill head passivation cycle, it does not wear life is about the same diameter drill bit grinding times titles edge life of 5-6 times, will help save the auxiliary work, reduce workers' physical and speed up the pace.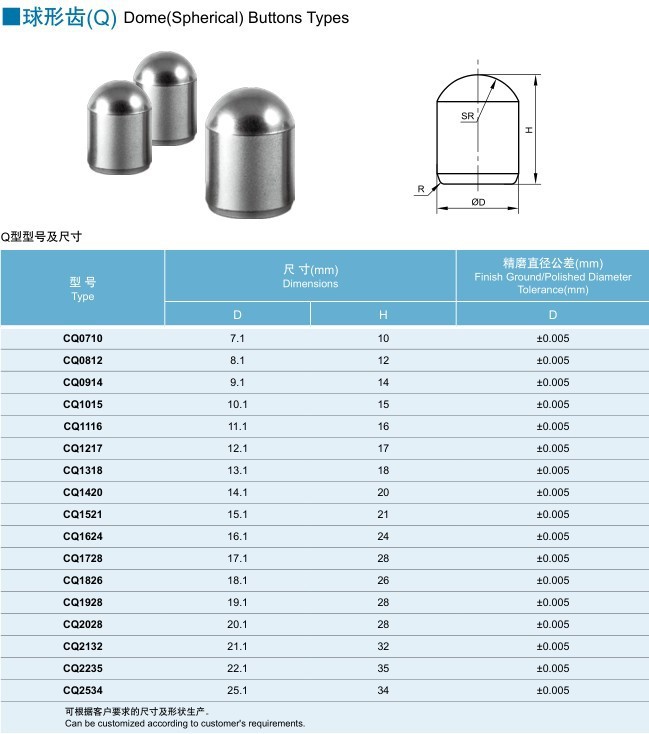 Vincent
Tel.: 0086-0731-22588303
Fax: 0086-0731-22332243
Mob: +8613357331966
skype:jinxin012@ojinxin.com
wechat:13357331966
WhatsApp:+8613607335766
Corresponding parameter set not found, please add it in property template of background
暂未实现,敬请期待
Tungsten Carbide Tooth For Drill Mine Field
Tungsten Carbide button for mining drill bit