Zhuzhou Jinxin cemented carbide, CNC inserts, CNC cutting
tool, mining alloy, carbide rod, carbide mould, non-standard
carbide design, high quality carbide products create development,
create our mutual future.
All Rights Reserved ;Zhuzhou Jinxin Cemented carbide Co., Ltd. 湘ICP备17007259号
Jinxin Cemented Carbide Partner
CNMG CNC inserts for turning
CNMG NC inserts for turning
cemented carbide cnc insert for turning, milling, cutting, grooving, roughing, grounding, polishing.
all kind of function for different machine and field
more display for all kinds of inserts: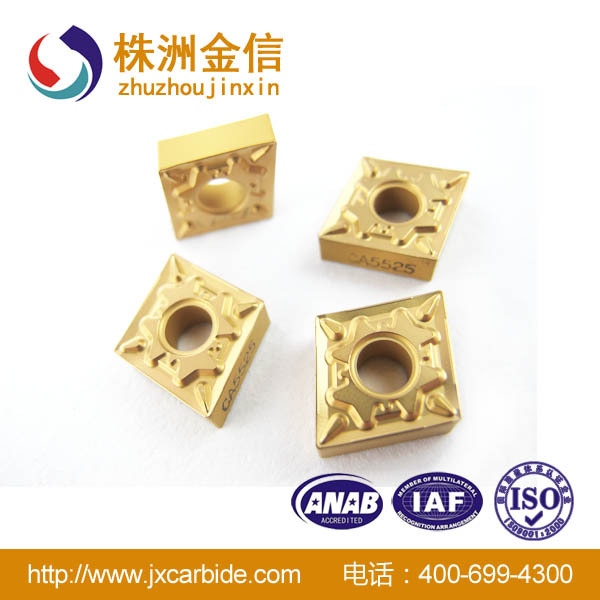 Tungsten steel sintering process can be divided into four basic stages:
1: Removal of pre-burn phase forming agents, the following changes occur during this phase sintered body:
Removal of the initial sintering agent as the temperature rises, forming agent gradually decompose or vaporize,
excluded from the sintered body, at the same time, more or less to the sintered body forming agent by carbon,
carbon amount will vary depending on forming agent different type, quantity and sintering process change.
Powder surface oxides are reduced, at the sintering temperature, the hydrogen reduction of cobalt and tungsten
can be oxides, if removed in vacuo to a forming agent and sintering, carbon and oxygen reaction is not strong.
Contact stress between the gradual elimination of the powder particles, bonding metal powder begins to generate
recovery and recrystallization, surface diffusion began, briquette strength increased.
2: The solid-phase sintering stage (800 ℃ - eutectic temperature)
Temperature occurs in the liquid phase under the previous, except to continue the process of what happens on
stage, the solid-phase reaction and diffusion intensified, plastic flow enhancement, significant shrinkage
of the sintered body.
3: liquid phase sintering (eutectic temperature - the sintering temperature)
When the liquid phase sintered body appeared after contraction done quickly, then crystallization transition
form the basic organization and structure of the alloy.
4: cooling phase (sintering temperature - room temperature)
At this stage, the organization and the phase composition of tungsten steel with different cooling conditions
to produce some variations, can use this feature, tungsten steel heat treated to improve its physical and
mechanical properties.
Factory production process:
MANUFACTURE PROCESS:
QUALITY GUARANTY:
Company profile:
Zhuzhou Jinxin Cemented Carbide Co., limited- years of operating experience for cemented carbide, with independent import
and export rights and business cooperation with 36 countries around the world, we are praised to be affirming in our quality,
service, Honesty and reputation by customers around the world, as we have a strong professional, dedicated and integrity
sales and service team.
Zhuzhou Jinxin has passed ISO9001: 2008 quality system certification, with independent import and export rights, as well as
a number of Chinese patents.
Zhuzhou Jinxin depend on the idea "skilled workers, great credit," try out best to help you build a world-know brand with service
concept, high quality, excellent service
We are deal with all the cemented carbide products.
Carbide Division: Specializing in the production of carbide ball tooth, brazing sheet, drawing dies, roll rings, cold heading die,
mining alloy, shield blades, litchi surface carbide blade, saw tips, woodworking blades, alloy milling insert tools, carbide plates,
carbide rods, carbide dies, tungsten steel mold, shaped alloy (non-standard carbide).
NC Tool Division: professional production of carbide inserts, CNC blade, CNC tool.
Precision Processing Division: specializes in precision carbide tooling, wear-resistant parts, valves, valve seats, seal rings
and other non-standard shaped products deep processing.
Mineral DRILLING Tools Division: professional production of button tips, drill bits, DTH bits, eccentric drill, tube drill bit,
oil drill bits, PDC drill, hammer, etc.
Tire studs Division: Professional design, production of various types of tire studs for motorcycle, racing, cars, outdoor shoes, etc.
Tungsten and molybdenum can hardly contain metal products business: production of tungsten crucible (Kyropoulos),
molybdenum crucible (heat exchange method), tungsten heater, tungsten insulated pipes, tungsten / molybdenum plates,
molybdenum reflective screen, tungsten / molybdenum supporting parts, tungsten / molybdenum cover and stainless steel matching sheet.
The company's products many models!
The company based on customer requirements, customized non-standard, special products!
The company profiled carbide, mold precision machining products!
We are dedicated to meet your needs
Ms Canny Tang
Tel: 0731-28821498 Fax: 0731-22332243
Mob./WhatsApp: 86-18907331470
Skype: ojinxin-18
Corresponding parameter set not found, please add it in property template of background
暂未实现,敬请期待
Cutting Tool Tungsten Carbide Insert CNC Turning Tools
tungsten carbide coated insert